Vanilla Lip Sleeping Mask for Dry Lips
Regular price
$19.99 USD
Sale price
$14.00 USD
Unit price
per
Sale
Sold out
Say Goodbye to Dry, Chapped and say HELLO to smooth, supple lips!
Our Vanilla Lip Mask was designed to perform lip repair naturally and condition lips overnight. Need extra moisture? Constantly suffering from chapped lips? Our Lip Conditioning Mask is just what your lips need.

What it is: Sleeping Lip Mask formulated with antioxidant rich ingredients to improve the appearance of dry, chapped lips!
LIP 💕 CARE

✔ Locks in moisture.
✔ Softens & smoothens lips.
✔ Protects lips against environmental stressors.
✔ Improves the appearance of dry, chapped lips.
✔ Creates a moisture barrier for intense hydration that lasts!
Why Choose Our Lip Mask?
We wanted to create a sleeping lip mask with ingredients that is full of antioxidants. Our vanilla lip treatment is cruelty free and vegan.
This Lip Mask Includes: Lip Mask + Spatula
Share
Ingredients

Please be aware that as we continue to evolve our product portfolio, ingredient lists may change or vary. Please refer to the ingredient list on the product package you receive for the most up to date list of ingredients, and reach out to hello@yugloskin.com with any questions.

Polyisobutene, Butyrospermum Parkii (Shea Butter)*, Persea Gratissima (Avocado) Oil*, Petrolatum, Prunus Amygdalus Dulcis (Sweet Almond) Oil*, Tocopheryl Acetate, Silica, Ethylhexyl Methoxycinnamate, Plukenetia Volubilis Seed Oil*, Tocopherol, Vitis Vinifera (Grape) Seed Oil*, Aroma (Flavor), Retinyl Palmitate.
How to use

Apply a generous layer on the lips and leave on overnight. Remove by gently wiping off or cleansing in the morning.
Shipping

Processing time: Order verification, tailoring, quality check and packaging. All orders are sent for dispatch within 24 hours after the order is placed. We will then process the orders, which may take an additional day.

Shipping time: This refers to the time it takes for items to be shipped from our warehouse to the destination.

International delivery usually takes about 7–14 business days. US orders are shipped by

 

USPS.

 After processing and leaving the warehouse, items usually take between 3 and 5 days to arrive at their destination but can take longer from time to time.
Return policy

Our 60-Day Guarantee

We truly believe we offer some of the most innovative skin care products in the world, and we want to back that up with a risk-free ironclad 60-day guarantee. If you don't have a positive experience for ANY reason, we will do WHATEVER it takes to make sure you are 100% satisfied with your purchase. Buying items online can be a daunting task, so we want you to realize that there is absolutely ZERO risk in buying our products and trying them out. If you don't like it no hard feelings we'll make it right. We have a 24/7 Ticket and Email support team. Please contact us if you need assistance.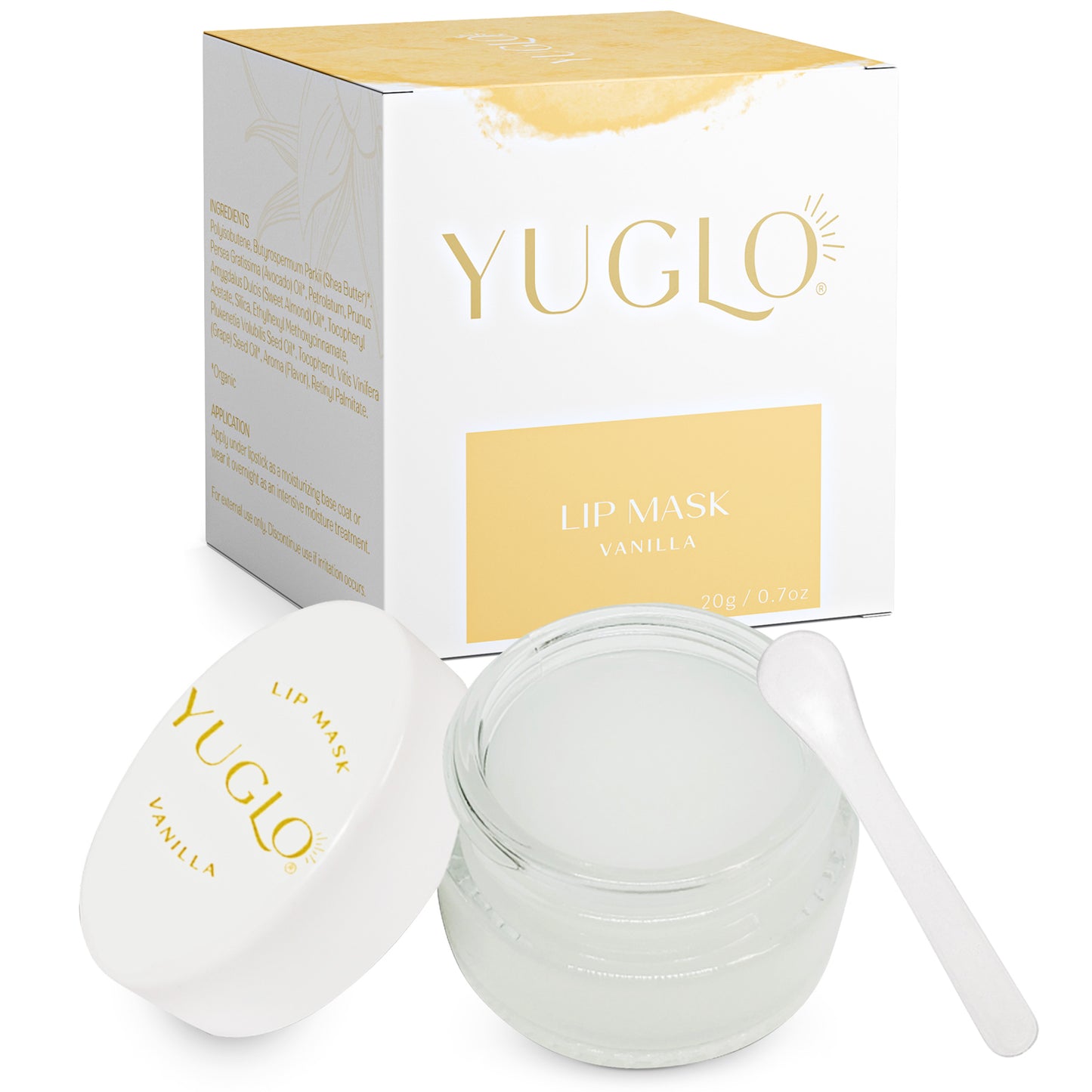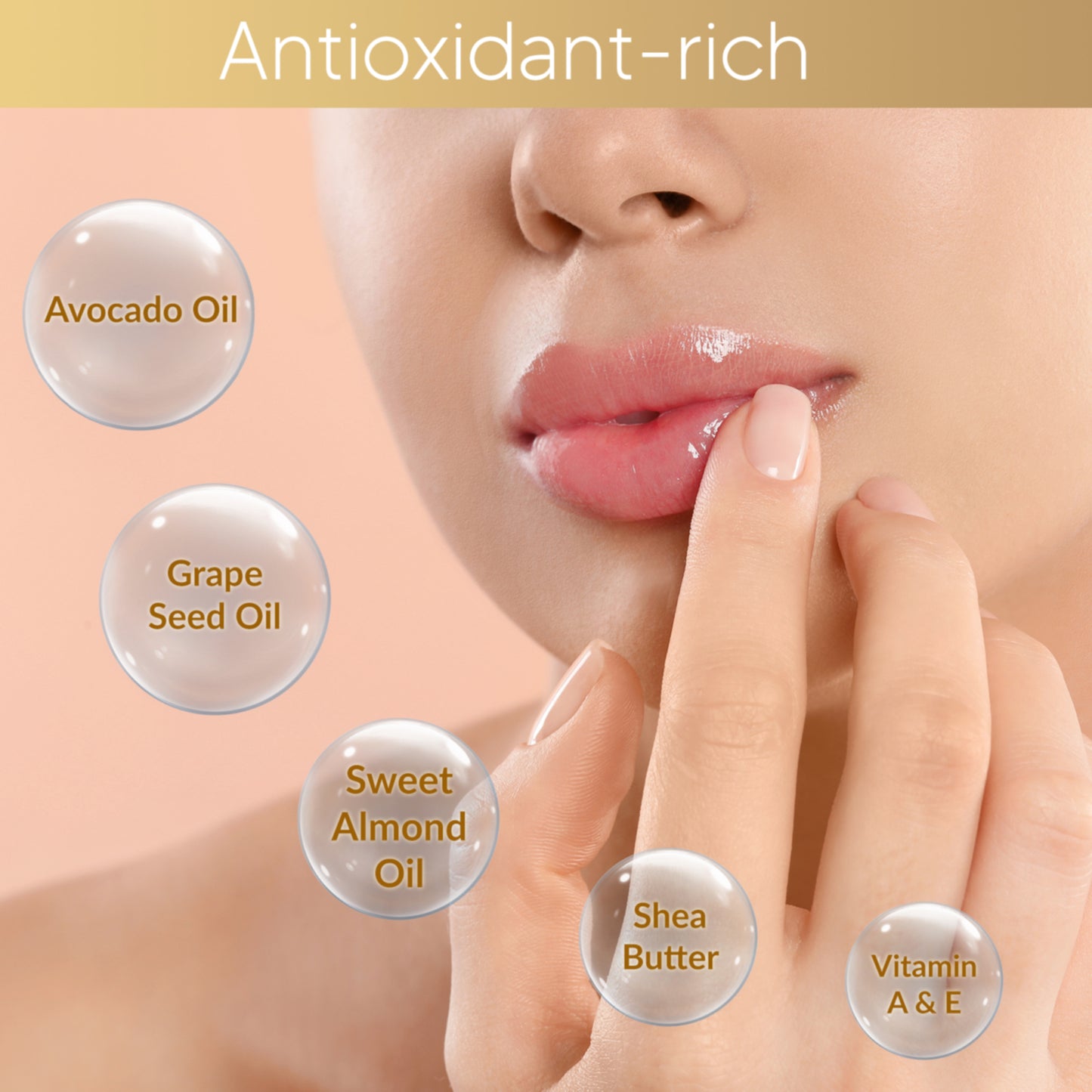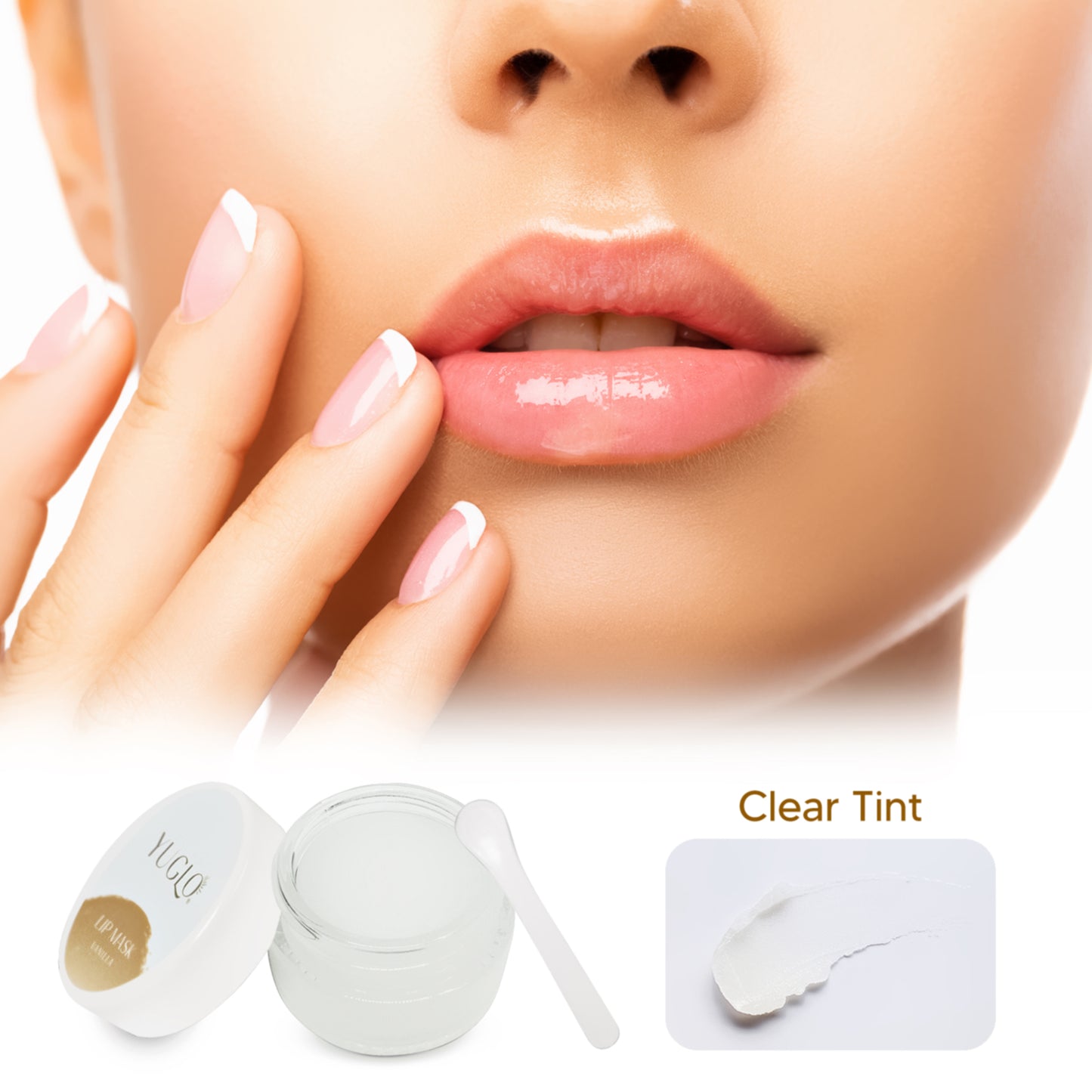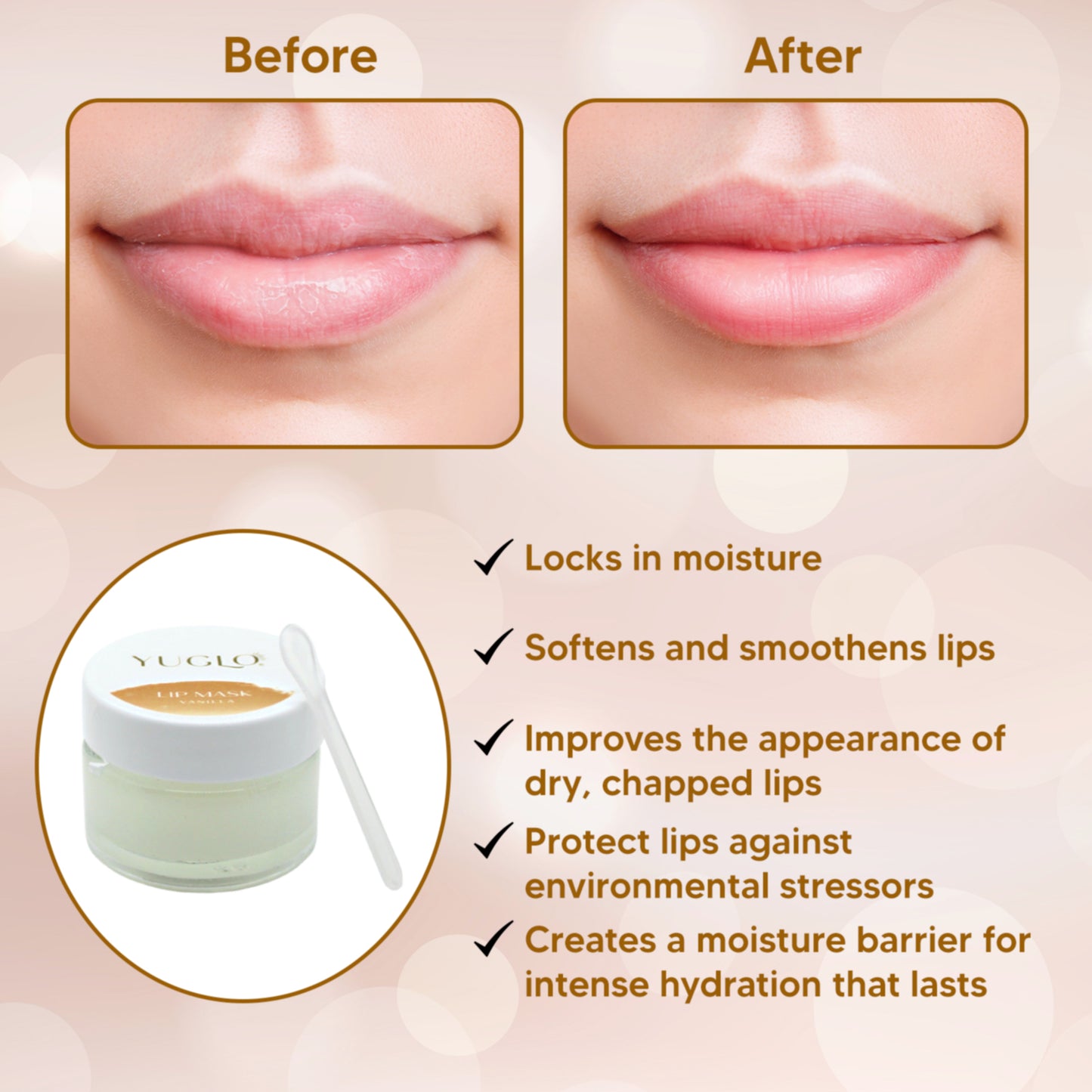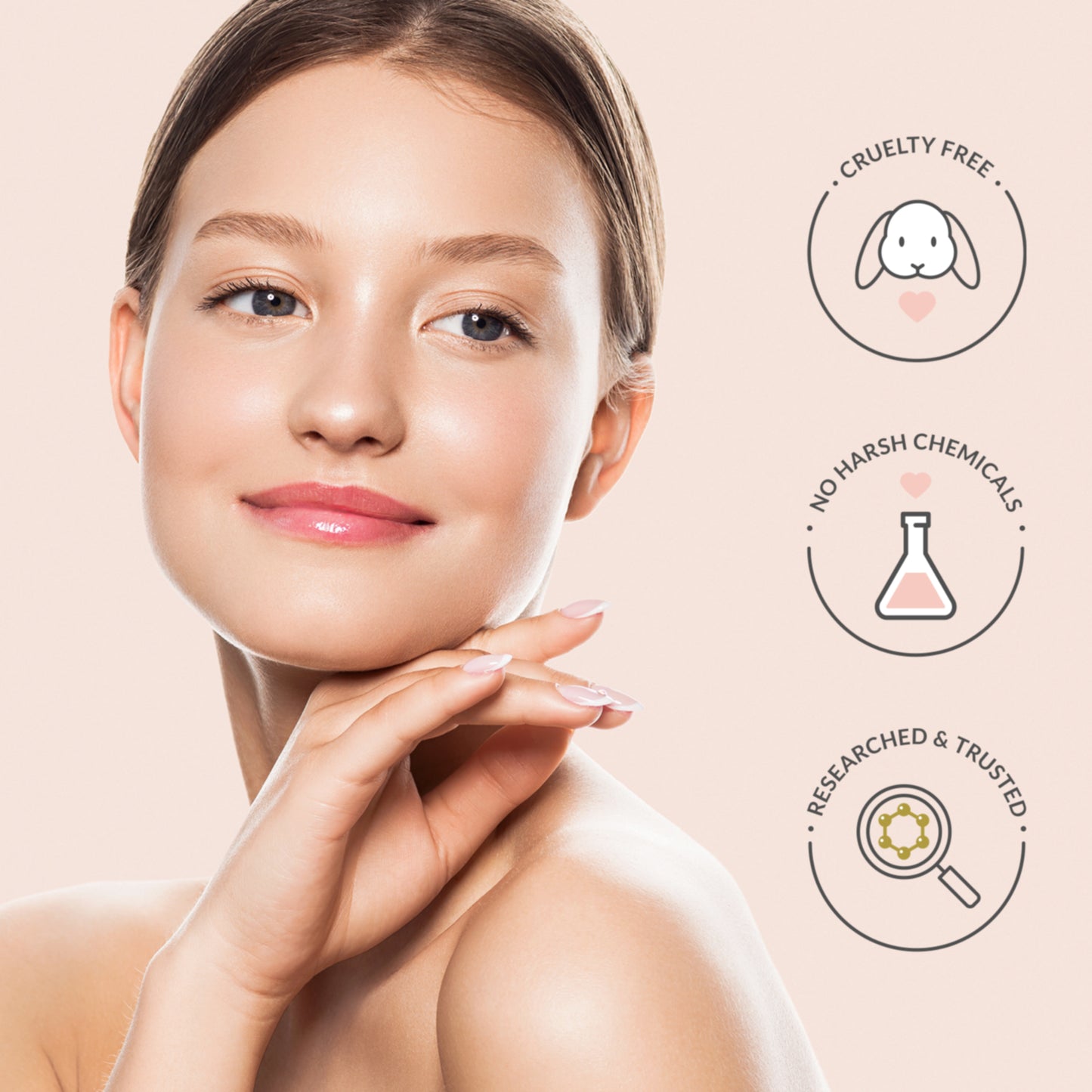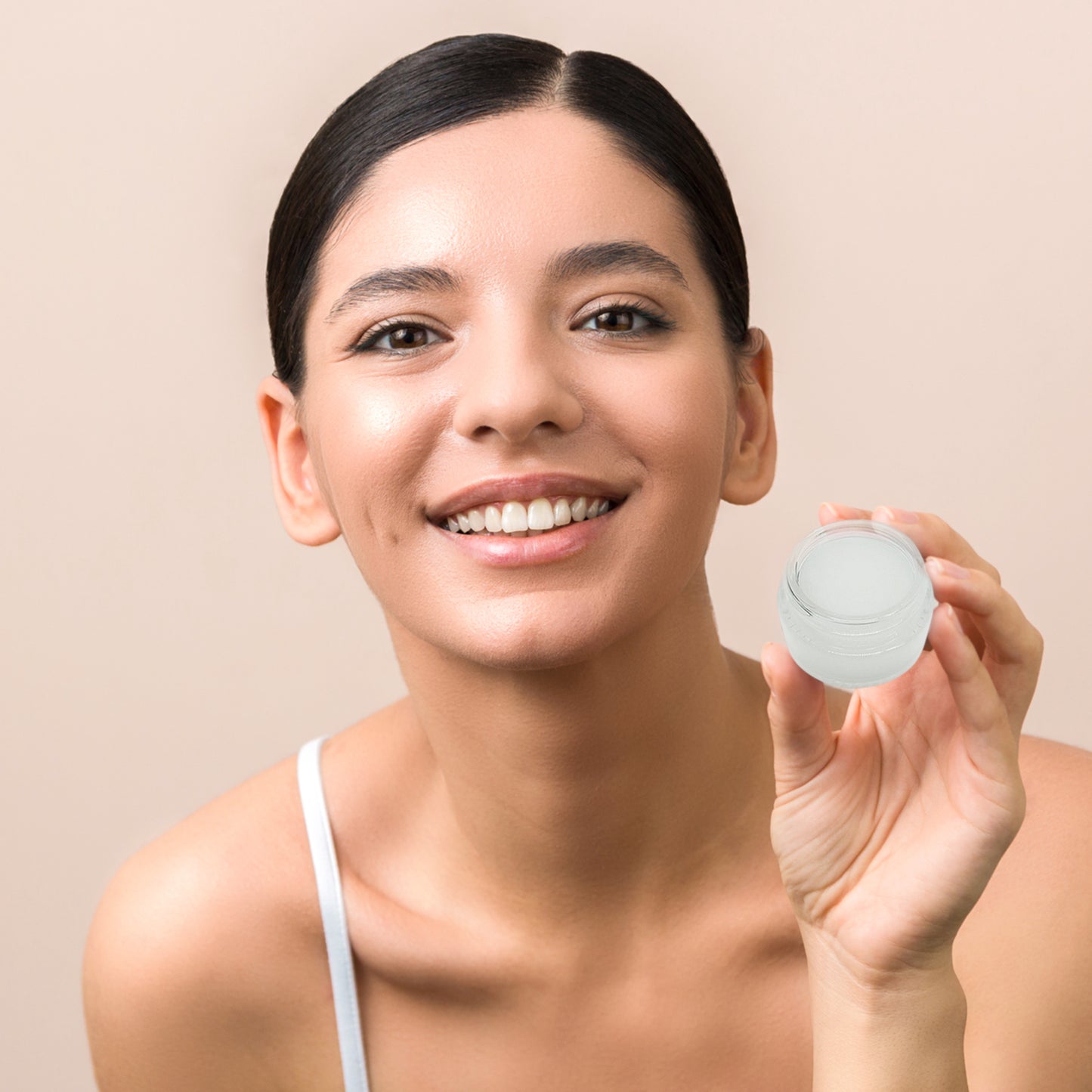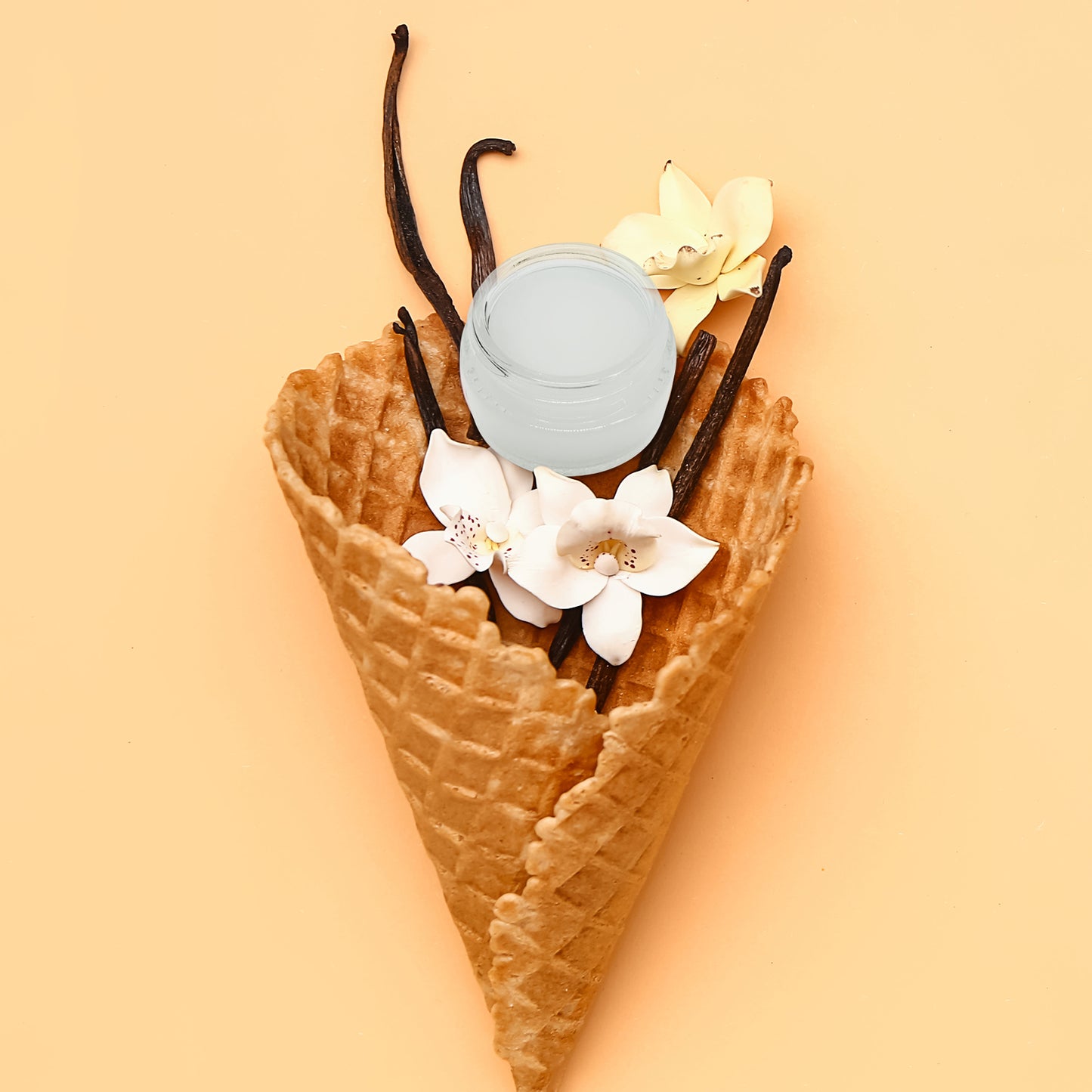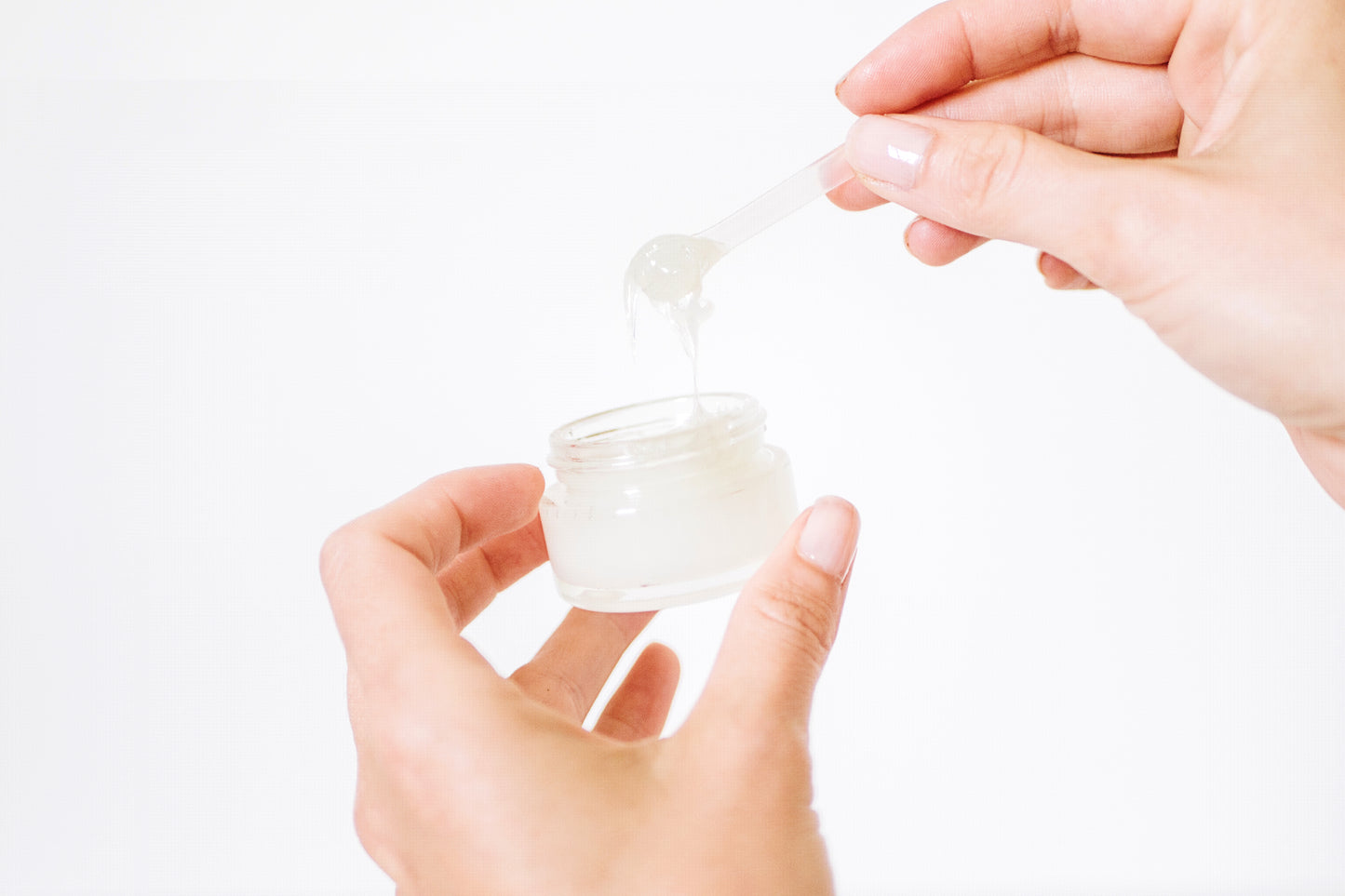 Why Yuglo?
Natural ingredients

Antioxodant Rich

Cruelty Free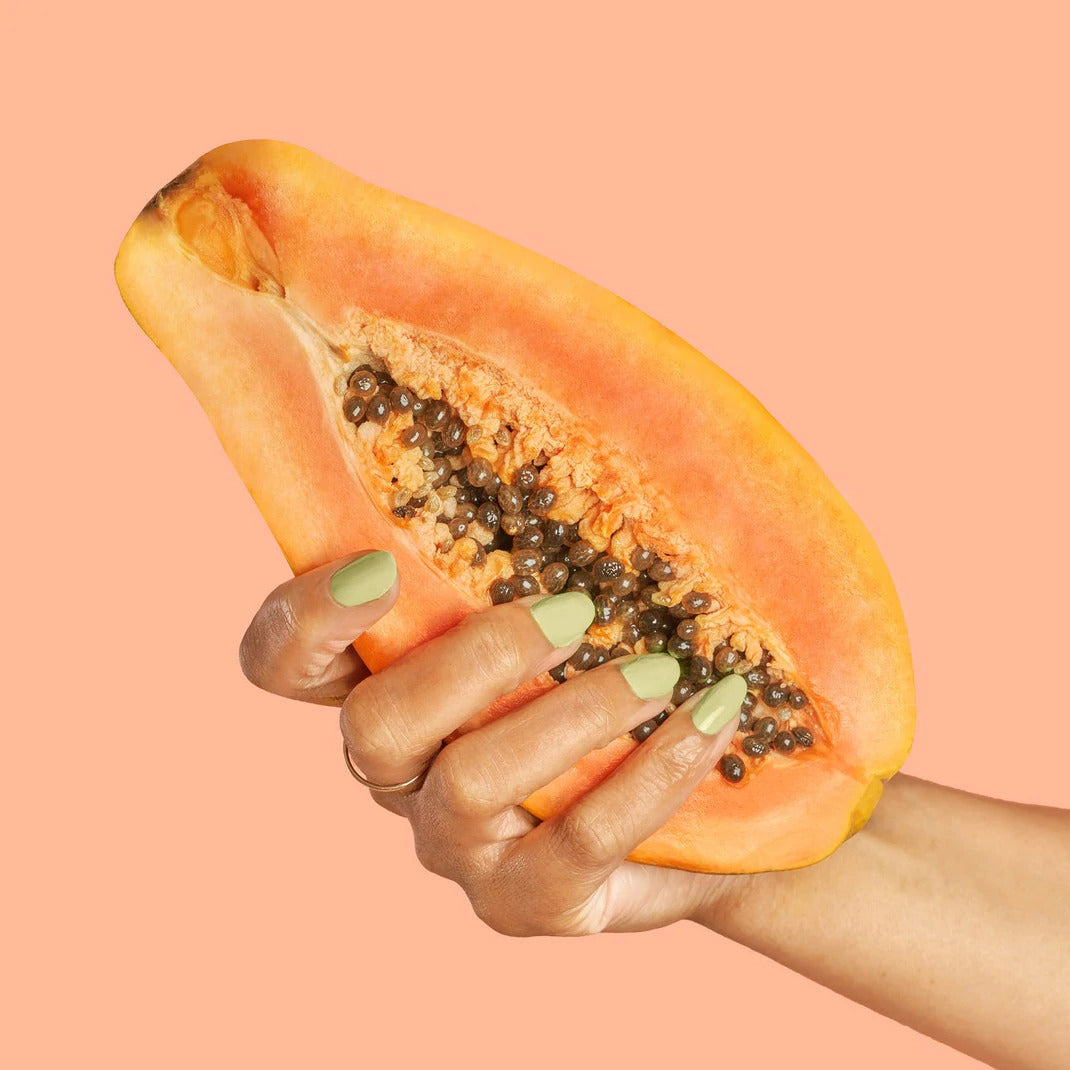 Made with you in mind.
We always choose the finest natural ingredients, then expertly blend them to benefit your routine ♡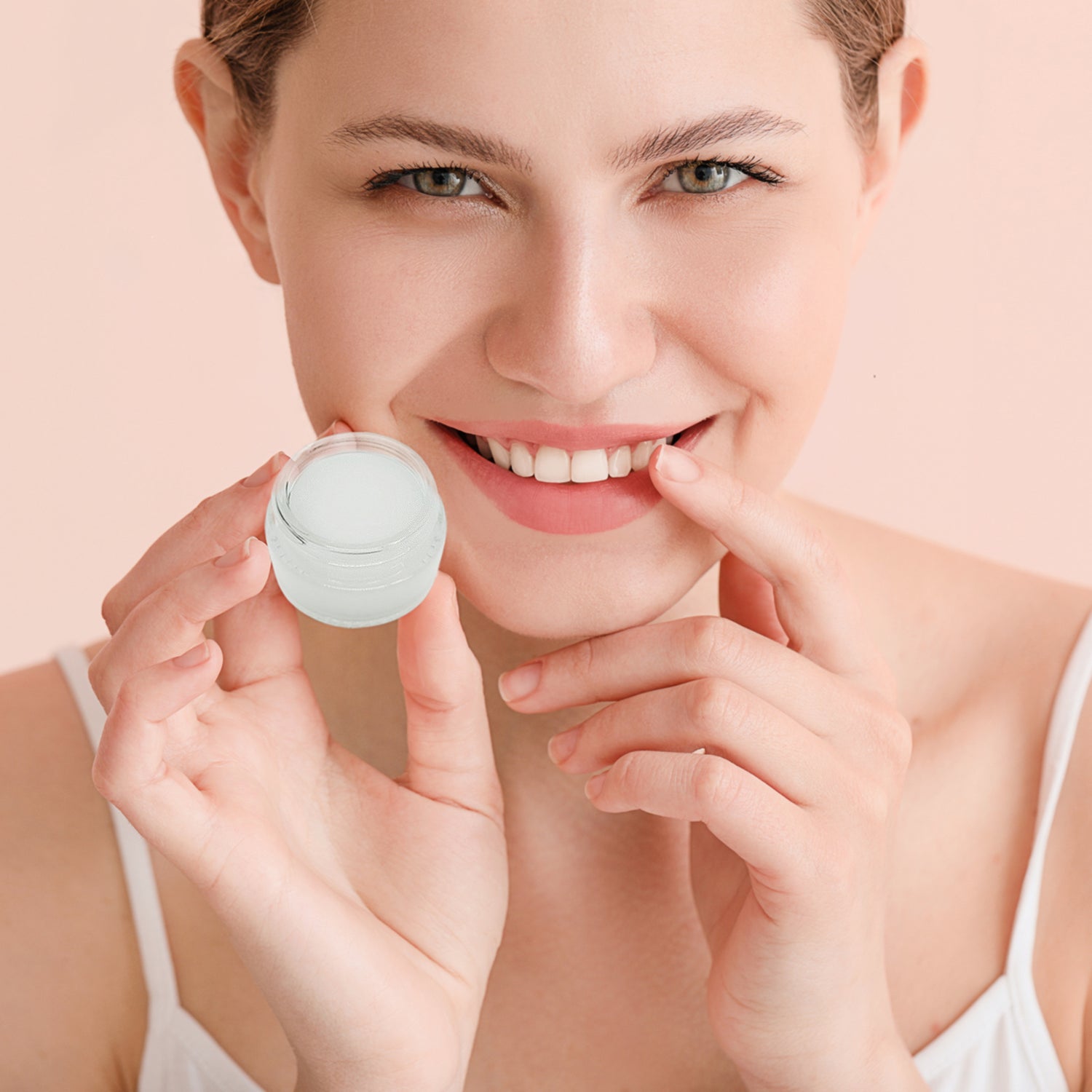 What is a Lip Mask?
When it comes to caring for your face, there are a number of different facial elements that are put on a pedestal. From plucking your eyebrows to utilizing specific cleansers to clear any breakouts that may be lurking on your skin, the face is home to many important features. One feature that is usually overlooked yet is one of the most important aspects of your face is your lips! Now, let's be honest. No one likes to deal with chapped and dry-looking lips. While certain chapsticks and lip balms may seem to do the trick for a temporary amount of time, you may be in need of a stronger product to get your pout back to its nourished and moisturized self! There are many different products that can be specifically utilized on your lips. However, one product is the answer to all of your chapped lip problems. Let's take a closer look at the skin care product you need to include within your lip care routine. 
What Exactly Is a Lip Mask and Why Do You Need One? 
Lip masks, which are sometimes regarded as overnight lip masks, are beauty products that are able to provide your lips with a never-before-seen level of hydration! Lips masks are typically created with skin-softening ingredients, such as specific lip butters and oils that are a little bit thicker and more hydrating than the standard chap sticks. This gel mask that is produced specifically for your lips has the ability to even plump up your pout, making it appear fuller. 
What Are the Direct Benefits of Using a Lip Mask? 
Lip masks offer users a number of incredible benefits. First and foremost, they will provide you with an abundance of moisture and lip hydration. If you live in a cold or dry climate you will most likely apply lip balm at least twenty times a day to keep your lips from cracking even more than they already have. When it comes to using a lip mask, you will only have to apply one maybe once or twice a week, in order to have a moisturized pout all winter long! Lip masks are also unique in the fact that they are able to reduce fine lines and prevent the occurrence of wrinkles from appearing around your mouth. This means that lip mask users can relax while actively preventing their skin from aging! 
Which Lip Mask Should I Trust to Use? 
It can be incredibly difficult to find a lip mask and a skincare brand that you can trust. When it comes to choosing a high-quality lip mask, you can trust Yuglo's Peach Lip Mask. Produced using extremely beneficial ingredients, like collagen, coconut oil, shea butter, beeswax, vitamin E, and jojoba oil, Yuglo's lip mask has the ability to take your lips from dry and chapped, to moisturised and hydrated! Our lip mask can easily create a moisture barrier that will allow for ample amounts of hydration to be locked into your lips for long amounts of time. Trust Yuglo with your lip care needs.
What are the benefits of a Lip Sleeping Mask?
Lip care is often forgotten in most people's' skincare routines. However, healthy lips are a sign of self-care and self-respect and shouldn't be passed over; lip skin health is just as important as facial skin health. In fact, chapped, dry, flaky lips can create sores that are perfect spots for bacteria and infection to take place, not to mention that dry lips can be very painful.
Isn't Drinking Water Enough?
Drinking water is a crucial part of bodily health, including skin health. However, water is easily evaporated from the lips due to the extremely thin layer of skin, especially in dry climates and during the wintertime. Getting those eight glasses of water is important but might not save your lips. You need something to protect your lips and increase water retention.
What About Lip Balm?
Lip balm definitely helps to increase water retention but might not make a big difference in hydration. Lip balms use waxes (such as beeswax) and oils/butter (such as shea butter or coconut oil) that help lock in moisture but don't actually add any, which is why people with extremely dry lips don't see great results with lip balms.
Why You Need a Lip Sleep Mask
Imagine taking five seconds to apply a thin layer of a great-smelling and tasting lip mask before bed and waking up with smooth, healthy, hydrated, and replenished lips. Yes, it's that simple! If you struggle with dry, chapped lips, a lip mask is the way to go. 
What is a Sleep Lip Mask?
A sleep lip mask is an overnight lip treatment that helps to revitalize cracked lips while you sleep. But why not use it during the day? When we sleep, our bodies naturally heal and cleanse themselves. By using a lip mask while you sleep, you boost your body's natural healing powers and wake up with perfectly kissable lips.
A sleep lip mask contains hydrating ingredients such as Vitamin E that help to increase cell turnover and boost collagen production while containing ingredients like shea butter to lock in moisture and increase water retention.
Benefits of a Sleep Lip Mask
There are tons of benefits to a sleep lip mask, such as creating smooth, supple, plump lips in just one night. This special lip treatment helps to reduce the appearance of dry, chapped lips and relieves pain caused by cracked lips. Additionally, a sleep lip mask creates a moisture barrier, locking hydration in and free radicals out.
YUGLO Sleep Lip Mask
Are you looking for an overnight lip treatment? YUGLO has you covered. Our all-natural cruelty-free sleep lip mask contains a peach extract that leaves your lips with a healthy pink sheen and smells amazing! Our lip mask locks moisture in and softens dry and flaky lips that need a little more love. This overnight mask will leave you with noticeably softer lips when you wake up in the morning; soft lips are a necessity to take on the world.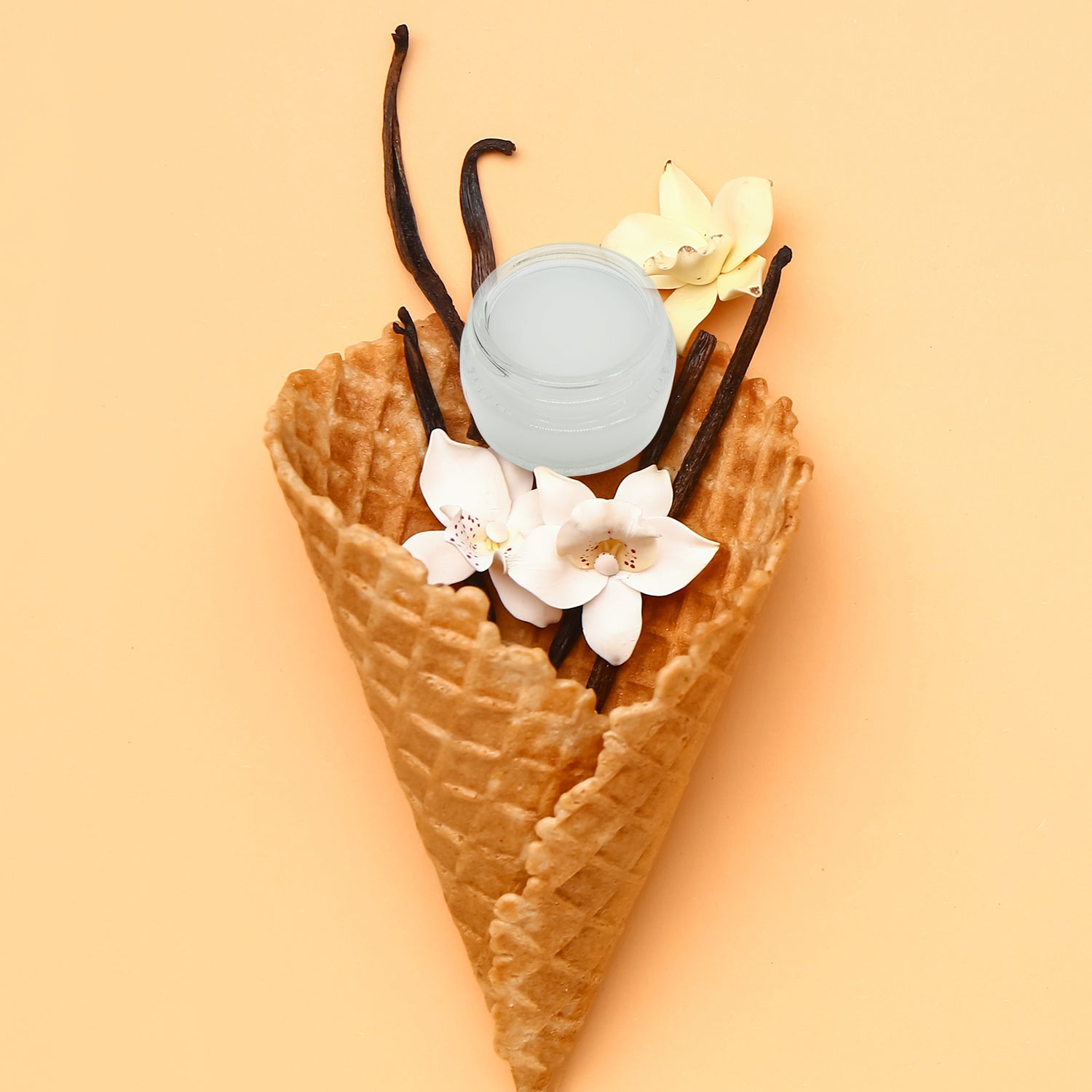 How Yuglo Skin Lip Mask is better compared to others?
If you find that your lips are being affected by the weather, it's time to get the best Yuglo's lip mask and make a change. Our lips frequently become chapped, dry, and cracked, and they quickly lose moisture. It's critical to use a long-lasting lip mask to protect your sensitive lips. There are a lot of lip cleansers and lip balms on the market, but nothing beats Yuglo's lip masks. Natural ingredients are used in Yuglo's products to keep the lips moist. Their cutting-edge technology transforms dry lips into kissable smoothness, softness, juiciness, and plumpness. Yuglo's Lip Masks can help decrease the appearance of age caused by the thinned skin on your lips. This is why we are distinct from other people.
Soothing and nourishing
Yuglo skin is designed to soothe and heal sore lips. From chapped lips to dry, irritated lips, our lip mask with Coconut Oil, Jojoba Oil, and Shea Butter performs an excellent job of reducing lip irritation and restoring lip health. Bye-bye, chapped lips! Our Lip Mask removes flaky skin gently, leaving you with smooth, full lips. After your day is done, use it overnight or in the evening! It has a smooth texture for easy absorption and includes Prunus Davidiana Extract, which helps build your skin's barrier. At the same time, it can boost metabolism and speed up the skin's rejuvenation process.
Consider how irritating it is to put on lipstick or lip gloss when you have dry skin areas on your lips. Lip sleeping masks may operate as a protective covering for the whole night while sealing in and giving moisture to your lips, making them just as crucial as your everyday skincare regimen. With these lip masks, you may treat your lips in the same way that you treat your face at the end of a long day. The Yuglo lip mask contains Coconut oil, which is rich in vitamins and minerals, in addition to natural ingredients.Coconut oil is a genuine Finnish superfood: it softens and soothes the skin while also being good for atopic and sensitive skin. The lip mask's gorgeous orange hue comes from coconut oil.
While you sleep, Yuglo's Lip Sleeping Mask dissolves dead skin cells, making your lips seem younger and plumper. Lips are firmer thanks to a Shea Butter Complex with Vitamin E and antioxidant-rich natural ingredients, while hyaluronic acid aids moisture absorption overnight. It's a genuine night-time pleasure for your lips, with sour and Shea Butter tastes.
Efficacy an obsession proven by science
At Yuglo, We believe in the importance of having healthy skin. Our ongoing dedication to produce goods that are effective, sensual, and safe is the fresh promise. We guarantee that the quality and enjoyment of our goods will never be compromised. We use natural active components in our formulations and innovative technologies to extract the plant's most effective element and enhance its function on the skin.
After obtaining the substance, we undertake effectiveness studies to establish the exact quantity that provides the best performance while being safe.Multiple examinations, ranging from measured testing to consumer panels, back up our final product claims. We start over if we don't acquire the desired outcomes.
How to apply a Lip Sleeping mask?
As with any new skin care product, it's important to do a patch test at least 24 hours prior to using the mask to avoid negative reactions or allergies. We recommend performing a patch test before incorporating a new product into your routine.
To perform a patch test for the lip masks: Apply a small amount of the product onto a clean area of skin on the inside of your wrist and keep the area dry for 24 hours. If any redness, burning, itching, blistering or irritation is observed at any time throughout the test, do not use the lip mask.
How to use our lip mask?
Simply apply a generous layer on the lips and leave on overnight. Remove by gently wiping off or cleansing in the morning. To get the full benefits, we recommend exfoliating your lips a few times a week prior to applying. Simply make your own lip scrub using equal amounts of brown sugar, honey, and olive oil. Feel free to customise your own. For very sensitive lips, use a clean, soft toothbrush and brush back and forth.
By exfoliating your lips prior to applying the lip mask, it helps increase the absorption of any lip product which in turn will provide soft, smoother lips. Use every night and during the day (if you feel like your lips need it) for the first two weeks while your lips adjust. Results may be instant for some but for others, it may take some time so we recommend giving the product a chance to work its magic!
What should I avoid while using the lip mask?
We recommend using right before bed to avoid drinking or brushing your teeth after using. This will allow the product to stay on your lips so you can wake up to soft, smooth lips.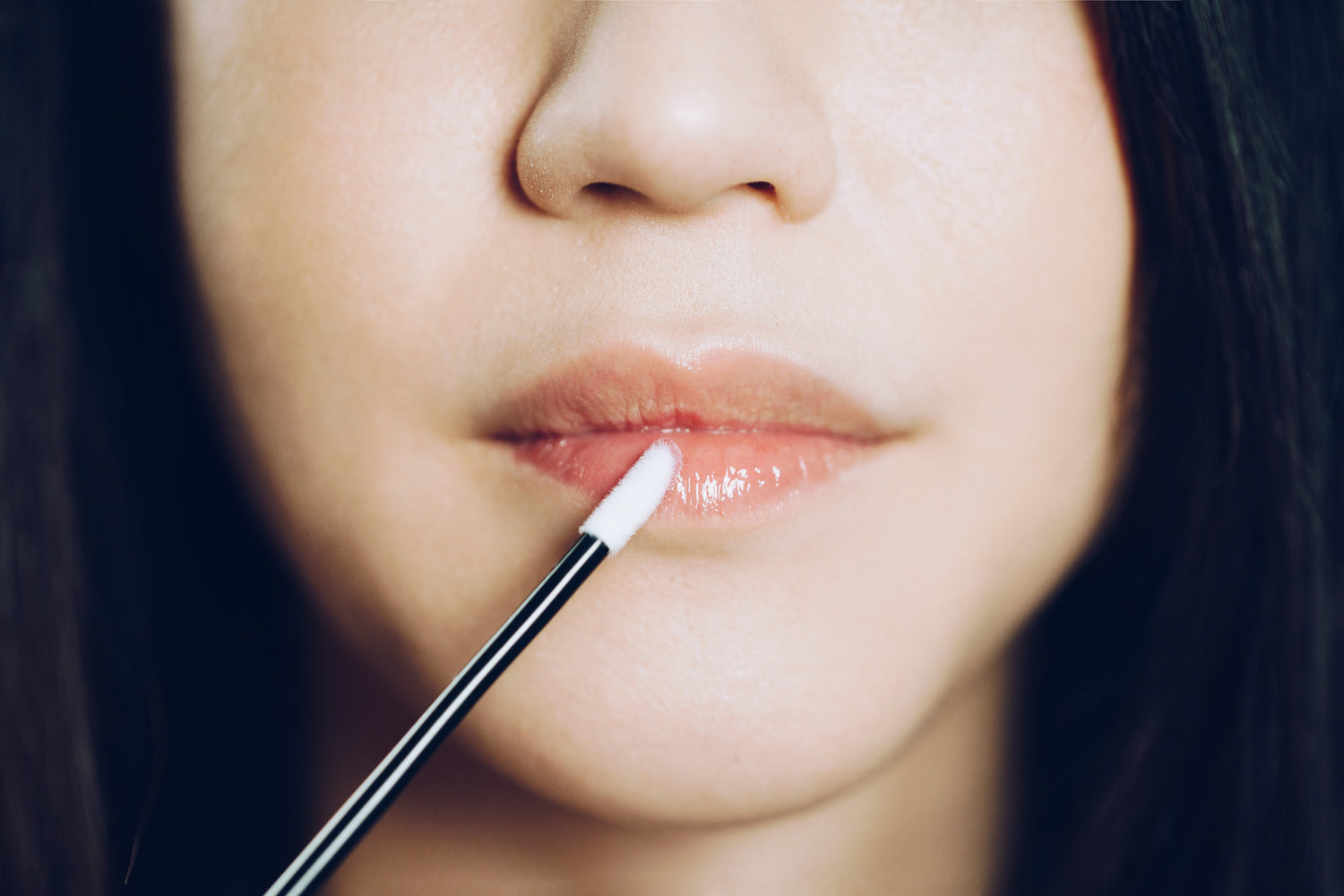 FAQs about Lip Sleeping Mask?
What is the source of the pink color?
The pink color comes from the Prunus Davidiana Extract which is also known as Chinese wild peach. The extract itself is what gives off the hint of color. Please note the pink color is very light. 
Does it contain collagen and peptides?
Our product is made with only natural ingredients so no peptides or collagen, however it does have effective ingredients such as coconut & jojoba oil that have been shown to naturally boost collagen production. 
How do you apply it?
You apply the lip mask with the included applicator before bed and it absorbs overnight. In the morning, if you have any remaining product, gently wipe with a damp towel. The product itself does not peel, however it does remove dead skin cells so if you notice any peeling after using, lightly use a damp towel or lip scrub to remove the dead dry skin.
Does the product have a long-lasting effect?
Yes, the lip mask has long-lasting effects as it is made with ingredients that over time are proven to heal, repair and boost collagen production. And yes, it is an overnight mask but we do have customers that enjoy using it throughout the day as well. 
What is the consistency of the lip mask?
The consistency is on the thicker side so it will definitely soften and make it easier to rub off all the dead skin. For best results, we recommend applying it generously the first few days or even using it twice a day while your lips adapt.
Reviews about our Lip Masks
- Jamie

No complaints- best lip mask I've ever used. Noticed a difference in just one day.

- Kenzie

This is a must have for your skincare routine! This lip mask goes on light and smooth, not sticky or greasy. It soaks in overnight & you wake up with happy, healthy, moisturized lips. The peach fragrance is light & sweet. I 100% recommend it

- Jessie

The mask smells delicious, not sticky. I ordered it a second time, I recommend it! Thank you

- Anna

Yummy peach scent, consistency is dense, pleasant shine on the lips and it really hydrates!

- Susan P.

LOVE it. Seriously best lip mask I've ever used.